Engineering Consulting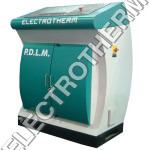 Engineering Consulting
Product Code : 08
Brand Name : ET
PDLM
PDLM is used to maintain the constant actual power demand of plant from supply line. If actual KVA tends to exceed the sanctioned KVA, the PDLM reduces the power of induction furnace. By using PDLM, maximum sanctioned KVA can be utilized, which optimizes the overall load factor of the plant.
When more than one furnaces are in operation on a single grid, PDLM can work still more effectively by sharing the total available power.
Power to the furnace can be shared through priority selection switches wherein one furnace can be provided full power while other runs at reduced power.
Overall productivity of plant will increase because of optimum use of available power. No human intervention is required for monitoring and controlling furnace load.
CT & PT failure protection is provided in the system which reduces power to minimum with an alarm indication.
Get in touch with us